Press release Assessment of the technical-forensic intervention in La Escombrera, Comuna 13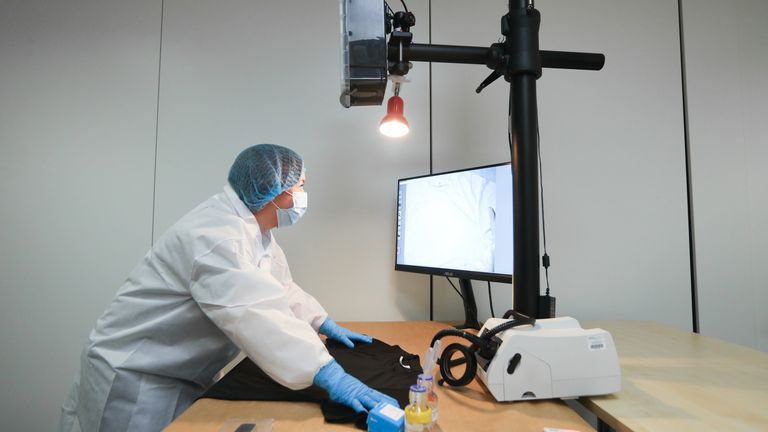 Assessment
On November 8, the initial phase of the technical-forensic intervention began in the sector known as La Arenera, Commune 13 of the city of Medellín, which lasted until November 23. The official opening of the process took place on November 10 with a restorative hearing convened by the Special Jurisdiction for Peace (JEP), headed by Magistrate Gustavo Salazar
In said audience, a symbolic act was developed where the first excavation activity began in the presence of the women seekers, social organizations and human rights defenders, institutions and other accompanying persons who were present.
This phase lasted two and a half weeks with the active participation of the Mujeres Caminando por la Verdad collective, Movice, the Libertad Legal Corporation, the Interdisciplinary Human Rights Group and the Santa Laura Montoya Foundation, who were overseers of the search process in this sector. During their stay there, the women and accompanying organizations were informed of the processes carried out in the 6 shafts excavated by the Unit for the Search for Persons Given as Disappeared (UBPD), which led the intervention.
The forensic archaeological intervention began with the extraction of the earth, which then went on to a large-scale screening process that allowed meticulous verification of the material to be analyzed. This was done under the continuous supervision of forensic professionals with specialized equipment. This methodology allowed us to take several aspects into account, such as: calculating the time to review the material, the review of small material in specialized machinery and how to excavate large quantities, taking into account that said land is an active quarry that is still being exploited.
For the Mujeres Caminando por la Verdad Collective, this initial stage process was more dignifying and respectful than the 2015 intervention, since participation was more active, there was greater support from the institutions responsible for the process, such as the Unit for the Search for Persons Deemed Missing, the Special Jurisdiction for Peace and the Secretariat for Non-Violence of the Medellín Mayor's Office.
María Gloría Holguín Echavarría, mother seeker and member of the Mujeres Caminando por la Verdad collective, assured that "all this process brought me great gratitude to all the organizations that were part of this search. I take with me a great experience that we had now and that we did not have in 2015, everything was very different. I hope that right now you will not leave us waiting for another 7 years and that the search will continue quickly." Likewise, Luz Enith Franco, a search wife, expressed: "I have high expectations, I hope that the process continues, that they do not delay and with great hope that they can find something."
The Collective of Women Walking for the Truth and the accompanying organizations insist on accelerating the necessary processes to resume the search for the disappeared persons in the Escombrera as soon as possible, as well as the Medellín Mayor's Office, through the Secretariat of Nonviolence, to establish and carry out the geotechnical study required for the continuation of the intervention.