5 Shows That Will Shake Up New York Fashion Week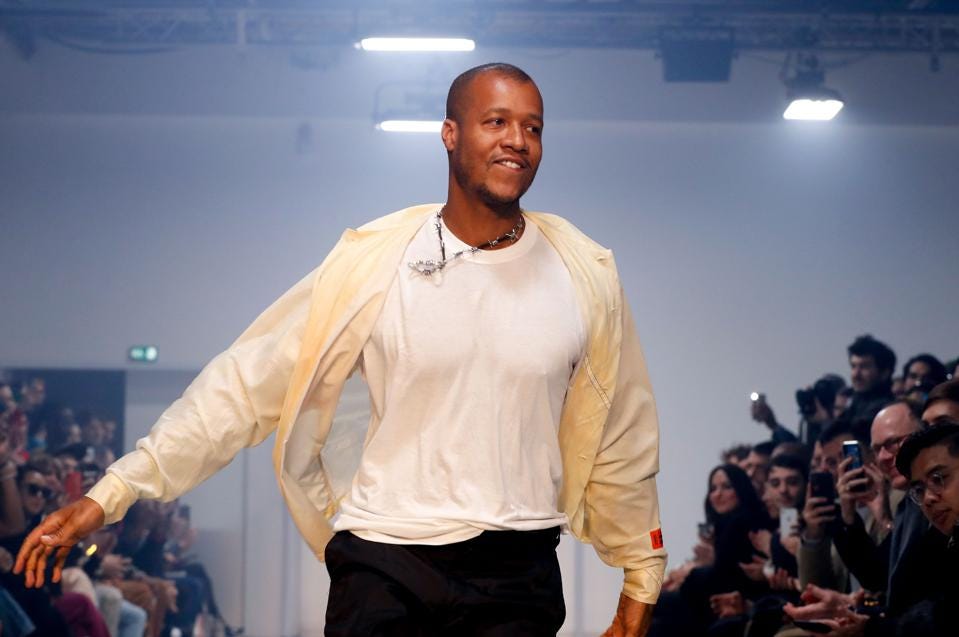 New York Fashion Week is coming up, starting February 10 and running through February 15. Rodarte kicks off fashion week with a runway show on February 10 and Luar closes it on February 15, according to The Council of Fashion Designers of America.
Thom Browne, who is the Chairman of the CFDA, is part of the NYFW schedule. Expect to see 74 different fashion brands will runway shows (and that's not to mention the countless parties, too). Here are five shows which are expected to be highlights.
Heron Preston
This year marks the debut of New York-based designer Heron Preston at New York Fashion Week. Previously, the designer has only shown at Paris Fashion Week, but now, expect to see Preston's new 3D-printed sneaker collaboration with Zellerfeld alongside designs inspired by objects that represent Americana, he told WWD.
Other brands that are hosting runway shows at NYFW for the first time, include Koltson, Cucculelli Shaheen, Ayama Studio, Kallmeyer, Kate Barton, Nayon, and Zimo.
Collina Strada
Known for making high fashion out of upcycled garments, Collina Strada brings an organic feel to high fashion on the catwalk. Their climate-conscious design work aims to "make fashion a little less horrible," brand founder Hillary Taymour told FT. And who can forget their broccoli bag that they brought to the runway last September? This kind of eco-conscious reminder is needed now, more than ever, with so much fast fashion abound.
It certainly doesn't hurt that Billie Eilish also wore the brand as part of her Vogue spread. The brand just announced their collaboration with Vans. They're also known for their sandal collaboration with Melissa Puff, too.
Two Schmucks' Moe Aljaff IsLaunching A Miami Pop-Up Bar In South Beach
Thom Browne
The British designer recently won a trademark infringement lawsuit against Adidas over a "three stripes" logo design. With this news, all eyes are on the brand right now, and many will be curious of what Browne will unveil on the runway—can we expect to see more stripes? After the lawsuit win, he told NPR in an interview that: "It was so clear to me to fight for myself, but also to fight for other independent designers and younger designers when they create something unique — that they have the protection of knowing that there won't be some big company that will come and try to take it away from them."
Dion Lee
New York-based Australian designer Dion Lee has been running the brand for over 10 years now. Most recently, we've seen his outfits worn by Vika Abbyaeva on Netflix's Bling Empire: New York. The designer just shared a sneak peek on Instagram from his pre-spring 2023 collection, called a Gil Net Crochet Dress. But what else? One guess: More corsets. Lee recently told Harper's Bazaar Australia that the corset has become "a brand signature." He explained: "To be honest, that became kind of like a breaking point for my entry to the US, this T-shirt- corset concept: taking the ease and utilitarianism of a T-shirt and injecting it with the formality, structure and execution of a corset."
The Blonds
This New York-based designer duo (David and Phillipe Blond) recently released their latest book with Rizzoli, called The Blonds: Glamour, Fashion, Fantasy. They also dressed Taylor Swift for the 2022 American Music Awards in a glittery gold onesie. For those who had all eyes on Kylie Jenner and Irina Shayk wearing the faux lion head at the Schiaparelli show at Paris Fashion Week, The Blonds created a similar design in 2014.
Last season, The Blonds brought a dark, dungeon chic to the runway, and last season, their runway was star-studded with Cassie, Gigi Gorgeous and Saucy Santana walking the runway, while Amanda Lepore, Daphne Guinness and Susanne Bartsch sat front row. Every season, the close New York Fashion Week with a bang, a lot of glitz and glamor, and this season is no exception. Stay tuned.