How to make a fake palm tree for outside | Completely professional quality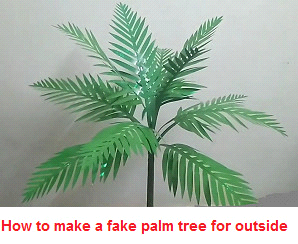 fake palm tree
Creating something myself and displaying it in front of everyone and then hearing compliments from everyone is a really rejoicing and different feeling.
If you have some time and patience, you can do it easily according to my crafts. There are some rules for every job, it is easy to do by following those rules and it can be done successfully with skillfully.
I never imagined my handicrafts would be so beautiful and that would surprise me. When I planned to make it,  was worried about how successful I would be. But when I started, I saw more new ideas coming to mind. I thought if I shared this experience with everyone, it would benefit everyone, so I shared. Here're two methods I've shown on How to make a fake palm tree for outside,– I hope you will be able to make a palm tree yourself in a very simple way just by follow the below article.
How to make a fake palm tree for outside
We are to think of making these artificial palms with two types of plans – one is for indoor and the other is for outdoor. Since we'll be preparing to make it for the outdoors, we have to make it thinking about the outside weather, – so that it is not damaged by the sun and rain.
First of all, what is needed is 18 inch long five, Waste cloth, thread, Crepe Paper, Steel Wire, Fabric Colour Pot and Fevicol
So let's get started.
1.   Now wrap the whole pipe with waste cloth, and one important thing is to attach the cloth to the pipe well by fevicol.
2.   Make a shape like a palm by keeping some small piece of cloth inside a 3-in / 3-in cloth, – And then tie some number of palms together and make it like a fascicle.
3.   After making the palm, – Now tie the palms a little below the top of the pipe –Because there will be tree branches on top of this palm.
4.   Now make some palm leaves with Crepe Paper and Steel Wire – Choose green Crepe Paper to make the tree look real
5.   After making the leaves, – attach the leaves well to the pipe
6.   When everything is done properly – now take a pot and put some stone sand inside it– now place the pipe well in the sand
7.   Well done
How to make an artificial palm tree with plastic file covers
This is another attractive artificial palm tree that is much easier to make. All that is required for this is — a4 size paper, pencil, scale, plastic file covers, fabric color, brush, electric tape, pipe, and steel wire, etc.
Now draw the plum tree leaf design with the help of pencil in a4 paper. Then make the leaf design by cutting with scissors.
Now you need plastic file covers,— place the design made of a4 paper on the plastic file covers and draw with a pencil like that design then cut the design drawn on plastic file cover with scissors.
Now attach the steel wire to the center of the plum leaf design of the plastic cover, and sew well with the needle and thread. Then paint the leaves with fabric color.
Now take an electric pipe 2 meter tall in size and wrap whole pipe with electrical tape,— after wrapping whole pipe, paint it— therefore Then attach the leaves well to the electric pipe.
However, the last thing you need to do is take a pot and put some stones inside the pot as needed — and place the made palm tree nicely in the pot center.
Well done, you've done the job successfully
How to make an outdoor lighted palm tree
Since you have already made an artificial coconut tree – now it is time to light it. This job is easy to do and anyone would be able to do it easily.
whatever you need for its — (1). Led Strip Lights (2). masking tape You can use cable tie instead of masking tape (3). Fabric Colour Pot
Now apply Led Strip Lights to the whole tree appropriately. Then you can tie it with cable tai or use masking tape. If you use masking tape, you can dye the fabric to enhance the natural beauty.
Final words
I tried to explain to you how to make a fake palm tree for outside professional quality at home. Basically, to make anything professional need Physicaly hard work and some time. And one more important thing here is that, it will not be possible to do the work, as long as the equipment is not collected properly.
It is normal to have fear in your mind before starting work but when you will start the work first time, it may take time to complete the work and the first work maybe some bad. So you have to have the morale to work and try again and again,— so that the next work will be being professional quality. Starting work means facing new problems and then overcoming these problems to reach the root of success.