Review: Logic3 i-Station Portable Speaker System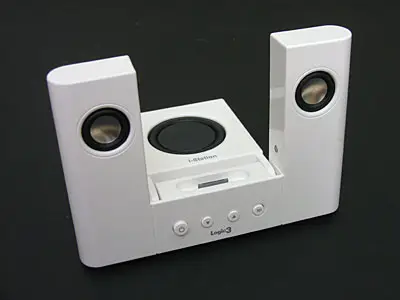 Pros: A fully dockable and portable iPod speaker system with left, right, and subwoofer speakers; accommodates all sizes of iPods (including iPod photos), runs off battery power, sounds pretty good, especially at higher volume levels, very attractive street price.
Cons: Altec's iM3 and iMmini systems sound modestly better at low volume levels, "3D" button adds solid treble boost that unfortunately sounds worse at higher levels. Overall a fair audio performer, not excellent by comparison with comparably priced stationary speaker systems.
After a reader brought Logic3's i-Station dockable speaker system to our attention, we knew that we had to check it out. With a $149.99 suggested retail price – but selling just about every place for $85 or less – the system's unique design had serious potential: it's currently the only portable iPod speaker set that includes a "2.1" channel setup, with a subwoofer and two smaller satellite speakers.
What is 2.1-Channel Audio?
In the portable speaker market, two-channel speaker setups are the norm: one channel is "left" audio, the other is "right" audio, and each channel includes separate audio information. That's why songs sometimes have sounds that move from left to right, or appear to change positions as you listen. But portable speakers are frequently limited in their low-end bass "thump."
Speaker makers have two ways to design around this. Like Altec Lansing's inMotions, they can add extra small left and right channel speakers capable of making reasonably low-pitched noises. Or, they can add a subwoofer – a larger speaker solely dedicated to low-end bass. When a subwoofer is added, the speaker system is classified as a ".1" system, so a two-channel system with a subwoofer is a 2.1 system, and a five-channel surround system with a subwoofer is a 5.1 system.
Why is the i-Station Unique?
iLounge has classified speakers in four categories – ultra-portable, portable, quasi-portable, and non-portable. Ultra-portable systems such as Macally's category-leading PodWave (iLounge rating: A-) don't even try to replicate bass thump. Altec Lansing's portable inMotions (iLounge rating: B+) are currently their category leaders, compensating for their lack of subwoofers by using multiple small speaker drivers that together produce a bass-heavy sound. Quasi-portable speakers such as Tivoli's iPAL (iLounge rating: B) and Bose's SoundDock (iLounge rating: B+) have legitimately rich bass, but are larger than the portable options and can't easily be taken everywhere. And non-portable speakers such as JBL's Creature 2.1 system (iLounge rating: A) frequently have rich bass due to their dedicated subwoofers – or even more impressive, room-shaking woofers – but aren't designed to be moved around.
The i-Station is the first truly portable iPod speaker system to include a speaker designated as a subwoofer. It uses small left and right "satellite" speakers, plus a dedicated 2.5" subwoofer – the same size as the single speaker in Tivoli's larger iPAL. And yet the i-Station is truly portable, running off of four AA batteries or AC power, and collapsing into a flat backpack-friendly package roughly the same size as a hardcover book.
Logic3 has included three other features that add additional value to the i-Station package: first, like Bose's SoundDock, the i-Station's docking area can physically accommodate every iPod released to date – first-generation to iPod photo and shuffle. Seven plastic inserts are used to hold the iPods in place, and though the iPod photo felt a little loose and the iPod shuffle required some cable maneuvering to keep in place, they all worked. By comparison, Altec Lansing's inMotion iM3 doesn't fit the iPod photo, so this is a bonus of Logic3's design.
Notably, but not surprisingly, the i-Station's dock only recharges Dock Connector-equipped iPods – 3G, 4G, mini, and photo iPods. It cannot be used to recharge older first- and second-generation iPods or iPod shuffles, which connect only for audio purposes, and then via their top headphone jacks. Logic3 includes a stereo audio cable for this purpose in each box, and you can use non-iPod devices with the speakers, as well.
As a second feature, like the inMotion systems and unlike the SoundDock, the i-Station serves as a complete Apple Dock substitute, and can connect to your computer for iPod-to-iTunes synchronization via USB and FireWire cables. Logic3 includes its own mini-USB to USB cables, as well as mini-FireWire to FireWire cables. The mini ends connect to the i-Station, and the full-sized ends to your computer, just like Apple's cables. Synchronization worked without a problem when we tested both sets of cables, though the speakers had to be plugged in to use the feature. The i-Station's Dock Connector is a plastic (unauthorized) part, for those keeping score, but didn't appear to have any problems in our testing.
Third and finally, the i-Station includes a few cute cosmetic touches that iPod fans will like. While resembling Altec Lansing's original inMotion speakers – now sometimes called the iM1 system – i-Station sets itself apart.
Aesthetics
When folded up, the i-Station is a large and rounded-off glossy white rectangular box that appears to have three speaker drivers facing you: one at the left, one in the center, and one at the right. Four buttons sit under the larger center subwoofer: power on/off, volume down, volume up, and "3D." A Logic3 logo is underneath the volume buttons, and an i-Station logo is above them where the subwoofer sits.
Flipping the closed i-Station around, left and right battery compartments sit on its back sides, with Line In and USB ports on its left, AC power and FireWire ports on its right, each clearly labeled. Rubber mounting feet are found on the i-Station's bottom, and also on its top back side, as part of the hinging central speaker housing. To open the i-Station, you simply push the central speaker backwards until you hear a click. The click is actually the popping out of two spring-loaded locking buttons on the inside of the central speaker housing, which prevent the housing from collapsing after being opened. Press them in to flatten the unit.
Once opened, the subwoofer sits behind the left and right speakers, forming the system's mounting base, and an iPod dock sits immediately between all three speakers, above the volume, power, and 3D buttons. Like most subwoofers, the position of the third speaker doesn't really matter, and isn't hurt by its placement behind the docked iPod. But surprisingly, two blue LED lights are found on the lower left and right sides of the dock, illuminating whenever the i-Station is turned on and resembling the underside speaker glow of JBL's Creature satellite speakers. It's a cool touch, for sure.
Finally, every i-Station includes a relatively large all-white AC power brick and a detachable wall cable. While not as compact as the power adapters in Altec's inMotions, Logic3's adapter can still be carried around without a problem, and thankfully isn't black in color like a number of other iPod AC power adapters.