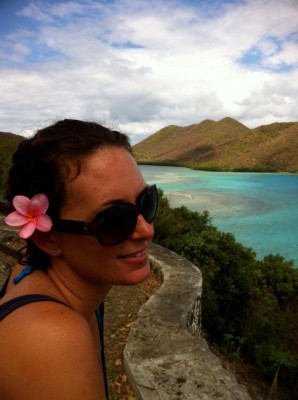 Kristi Hansen
Track 10 on Kenny Chesney's new album "Life On a Rock" (out 4/30 – iTunes/Amazon) is titled, "Happy on the Hey Now (A Song for Kristi)".
So just who is Kristi?
She was an icon in St. John, who worked at Woody's and La Tapa restaurants, and died before her time at 35.
"The 'Hey Now' is a boat. We had a lot of fun on it. This song is grounded in ways I didn't see coming. Kristi was part of a circle of friends that defined my life. She didn't care who I was or what I did. Kristi was good at life. She died before her time. I wasn't going to put this song on the album, because it's so personal. This song made me rethink everything" Kenny explained.
Kristi died giving birth to her daughter, and the baby died also. Her boyfriend is Kenny's boat captain, Captain Ben.
To read more and hear a clip from the song, click here.
UPDATE: Here's the second part of this post, which was posted yesterday, April 29th, as a followup. Broadway was able to chat with Kristi's fiance and find out a little bit more about Kristi …
Last week, I told you about Kristi Hansen, a fixture in St. John who Kenny Chesney's "Happy on the Hey Now (A Song for Kristi)" from his new "Life On a Rock" album was written for.
I tracked down her fiancé, Ben Shepherd, and he agreed to an interview.  What I got was something I NEVER expected: the most epic love story, ever.  This story makes "The Notebook" look like "Animal House."