Neiman Marcus luxury department store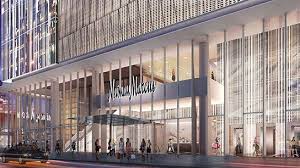 Neiman Marcus is a luxury department store chain that has been a prominent fixture in the American retail landscape for over a century. Founded in 1907 in Dallas, Texas, by Herbert Marcus, his sister Carrie Marcus Neiman, and her husband A.L. Neiman, the store quickly became known for its high-end fashion, luxurious home goods, and exceptional customer service.
Today, Neiman Marcus operates 43 stores across the United States, as well as an online retail platform. The company has earned a reputation for offering a highly curated selection of designer clothing, shoes, and accessories, as well as premium beauty and home products. Neiman Marcus has also made a name for itself by offering a range of exclusive collaborations and limited-edition items, as well as highly personalized shopping experiences for its most loyal customers.
One of the key features of the Neiman Marcus brand is its commitment to providing exceptional customer service. The company's sales associates are highly trained to offer personalized styling advice and product recommendations to help shoppers find the perfect items for their needs. Neiman Marcus also offers a variety of additional services, including alterations, gift wrapping, and personalized monogramming.
In recent years, Neiman Marcus has faced significant challenges, including increased competition from online retailers and a shift in consumer preferences towards more casual clothing and shopping experiences. In response, the company has invested heavily in its e-commerce platform and launched several initiatives aimed at reaching new customers and expanding its offerings. These efforts have included partnerships with popular social media influencers, the launch of a subscription service for luxury clothing rentals, and the introduction of new, more casual product lines.
Despite these challenges, Neiman Marcus remains a beloved brand among luxury shoppers, thanks to its commitment to quality, innovation, and exceptional service. As the retail industry continues to evolve, it will be interesting to see how the company adapts to the changing landscape and continues to maintain its position as a leader in the luxury retail space.