What is App Store Optimization (ASO)? The in-depth guide for 2022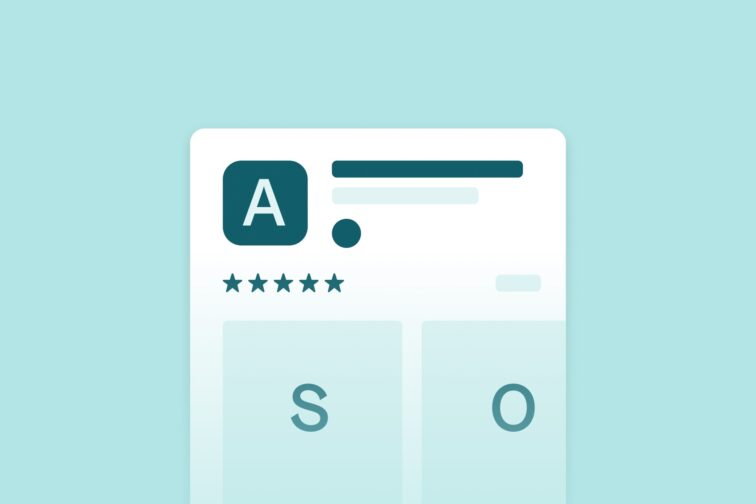 App Store Optimization (ASO) refers to improving an app's visibility and user appeal in the app stores and increasing app conversion rates to get more downloads. The most popular app stores are App Store for iOS apps and Google Play Store for Android apps.
In addition to ranking high in the app store search results, ASO also focuses on click-through rate (CTR). To optimize for high CTR, you must convince people to click on your app store listing once they find it. Typical CTR optimization includes your app name, app title, app icon, app screenshots, and app ratings.
In this in-depth and extensive guide, we share all the tips and tricks you need to know to succeed at app store optimization. If you are unfamiliar with ASO or are just getting started, you will find here all the information to start ranking your app higher in app stores.
Why is app store optimization important for app growth?
According to Statista, there were 3.3 million apps in Google Play Store by the end of Q1 in 2022. The same source reported that over 2.1 million apps were available in Apple's App Store in the same period. With more than 5.4 million apps listed in the two largest app stores, achieving and holding high app rankings is becoming very challenging.
Getting app downloads and growing your user base is among the most important KPIs for app marketers and publishers. App store optimization maximizes visibility in all available placements in the app stores, improves appeal for the uers and helps with converting views into downloads. In practice, ASO covers
a large spectrum that ranges from the optimization of tex
There are two main ways how you can get those downloads:
By running paid app campaigns that come with a certain cost-per-install (CPI)
By optimizing your app for organic traffic by following ASO best practices
Both tactics are essential for app growth, and advanced app marketers use them simultaneously for maximum impact. However, paid advertising comes with investment and can be challenging to pull off when you start your app journey. App store optimization is also not free but is the fundamental aspect you need to master to ensure the long-term success of your app.
There are many ASO goals, but the primary one is to increase the number of downloads and the number of loyal users. Before jumping into the details, let's first quickly explore the benefits of ASO.
What are the benefits of app store optimization?
Most important app store optimization benefits include visibility & exposure in the app stores, better discovery by high-quality and relevant users, increased organic app downloads, lower user acquisition costs and continuous growth, increased app revenue and conversion rates, and global audience reach.
App store optimization is necessary if you want to get your app in front of the right users. Many argue that optimizing your app is the most effective marketing strategy for mobile apps and games.
Here is how you can benefit from app store optimization and what results from it you can achieve:
Improve visibility & stand out in the app stores
People can't download and use your app if they can't find it. So no matter how great your app is, if it's not easily discoverable, you won't be able to improve the number of installs.
Always get discovered by high-quality and relevant users
It is not enough that your app is found; it has to be found by the right users – users that search for apps like yours. App store optimization gets you to the right users because it matches your app to relevant keywords. These are the search terms people will use to find your app.
Increase organic app downloads in a sustainable way
A good ASO strategy will boost your organic installs and ensure long-term results. When people search for keywords related to your app, the search results will contain your app. Working on your ASO regularly will ensure that you keep high rankings.
Cut user acquisition costs and get continuous growth
Instead of spending money on ads, you can lower your user acquisition costs by focusing on organic growth with ASO. This not only saves you money but also ensures steady growth.
Increase app revenue and conversion rates
There are various ways to monetize your apps, such as in-app ads, in-app purchases, and subscription models. As a result, many of you may decide to run ads to bring in more users and, thus, more revenue. But if your app store listing page isn't converting and convincing users to download your app, your ad spend will be wasted. Remember, app store optimization involves conversion rate optimization and getting people to click through and download the app.
Reach a global audience with your app
By making your app available in other languages through an app store optimization process called app localization, you can get users worldwide to discover your app. ASO can help you with taking your app global.
How does App Store Optimization work?
App store optimizations can be compared to search engine optimization (SEO). App store users use search queries to find different apps and games, and at the same time, the app stores can recommend additional apps based on user preferences and popularity. Typical ASO tactics include keyword optimization, search and paid ads (they also affect organic search results), category rankings, and top charts or apps featuring in Google Play or App Store.
To boost your organic growth, you first have to understand how people search for and find apps. The first step in maximizing your downloads is to make your app easily discoverable by the right users.
How do users find and download mobile apps?
People are hunting for specific apps in app stores like Google Play Store and Apple App Store. A whopping 70% of mobile users utilize search to find new apps. Furthermore, 65% of all downloads occur directly after a search. App store search is the most common method for discovering new apps.
More so, the search ranking position of an app directly correlates with the number of downloads. The higher your app ranks in the search results, the more visibility it will get. Higher-ranking apps also get more downloads since users usually don't scroll through every search result. They usually look at the top 10 or so. That's why achieving a top rank is crucial to app success. Without app store optimization, you miss out on the most effective marketing channel for mobile apps and games.
Your secret weapon for app growth is learning about ASO and investing time into it. It sustainably brings long-term results. Curious about other advantages of ASO? Just continue reading, and you will find out!
Mobile App Trends in 2022
Apps with high crash rates and infrequent app updates are considered low quality and therefore have lower rankings. Buggy, lower quality, or scammy apps are also subject to removal from the app stores. Moreover, 2022 app marketing trends are going toward providing users with a clear privacy policy. As more people develop mobile apps and games, Google and Apple become more selective with the ones they allow to be published in their app stores.
Frequently updated apps that people use more often are rewarded and appear higher in the app store search results.
Difference between ASO and SEO
ASO is often called app store SEO (Search Engine Optimization). Both processes share similarities like keyword optimization, backlinking, and conversion optimization. The ranking factors are the main differences between app store optimization and search engine optimization. ASO is used to optimize mobile apps for their presence in app stores, while SEO is for optimizing websites for search engines like Google.
Google Search involves hundreds of ranking factors with different ranking weights. The list of ranking factors for ASO is much shorter, and we can confidently tell what those factors are.