Mother's Day Gift Ideas In 2023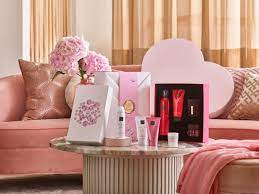 Traditionally celebrated on the 4th Sunday in Lent (that's 3 weeks before Easter) in the UK, Mother's Day is a special time to honour and celebrate the most amazing woman in your life.
If you browse a variety of Mother's Day photo albums you may well see that not all families are quite the same. Many families have a single, strong mother figure, some have two, and others have an honorary 'mother' who is not blood-related. Whoever nurtures and supports you through life, in a motherly role, deserves to be recognised with a gift on Mother's Day in 2023.
Surprise and delight the special woman in your life with a thoughtful and meaningful gift this year. There's no need to worry if you're lacking in inspiration, simply check out our luxury, keepsake and experience gift ideas…
Luxury Presents
The tradition of celebrating mothers started in England around the 17th century. Back in the day, children often worked as apprentices and domestic servants. On Mid-Lent Sunday, they were allowed a day off to spend time with their mothers. After going to church together, the youngest children playfully picked flowers from roadside bushes to give as a Mother's Day gift. Older siblings commonly baked a classic almond based Simnel cake.
In our modern times, there's a countless array of gift ideas to shower your mother with. If you want to show how much she means to you, it's worth going luxe. Luxury presents are perfect for pampering and indulgence, and will make any mother feel special.
The bestselling Mother's Day flowers are roses, carnations and chrysanthemums. In 2023, start your own trend by choosing premium, organic fresh flowers that are beautiful and fragrant, and that convey a personal message. As many flowers have associated meanings that are linked to the colour of the bloom, it's thoughtful to handpick a pretty bunch that symbolises love. In Greek mythology, the lily was commonly associated with Hera, the Queen of the Gods. Choosing a selection of gorgeous, heady scented fresh lilies will let your mum know that, in your eyes, she's an absolute goddess.
Treat your mum to the ultimate in kitchen countertop gadgets this Mother's Day. The Hotel Chocolat Velvetiser whips up a luxuriously decadent, barista-grade hot beverage in minutes. The copper edition in-home hot chocolate system is supplied in a kit that includes a selection of your favourite hot chocolate single serving sachets.
Upgrade your mum's rest and relaxation regime with a specially curated beauty box that is filled to the brim with her favourite Spa products. Complement the luxurious skin and body care products with vitamin enriched facial treatments, for a top to toe pampering session. The addition of gorgeous scented candles, or aromatherapy essential oils that can be diffused in a burner, will transform your practical self-care gift into an enjoyable and memorable experience.
Keepsake Gift Ideas
A picture speaks a thousand words and is treasured forever. In 2023, evoke feelings of nostalgia and emotion by presenting your mum with a luxurious, bespoke photo album. Mother's Day photo albums are the perfect keepsake gift to cherish, treasure and pass on to future generations of the family. Put a smile on your mum's face by filling the photo album with a collection of your favourite photo happy memories. If you have a brood of your own, it's thoughtful to include a photo of each child with a special message that is handwritten.
Celebrate your mother's life, heritage, and family history with a Living DNA kit. The unique present will enable your mum to uncover her global family ancestry from a single cheek/saliva swab. The world-leading ancestry test can explore 500 years of your family ancestry, and delve deeper into extended family connections. Results are typically ready in 6-8 weeks.
If you prefer to gift tokens of your appreciation and love that can be worn and admired every day, it's a lovely idea to present your mum with a stunning piece of artisan jewellery on her special celebration day. Choose from a vast array of handmade jewellery in gold, silver or rose gold precious metals, with or without glossy pearls or dazzling gemstone embellishments. Or you can select a beautiful necklace that's adorned with a pendant featuring real flowers.
Experience Gifts
Pay back the love and care that you've received unconditionally throughout the years, by gifting your mum an unforgettable experience.
Say a big thank you with a gourmet lunch served up at an exclusive restaurant, or treat her to a lavish afternoon tea for two in upscale tearooms. Alternatively, you can gift your mum a dining experience that incorporates a fun comedy night on the town, or an overnight murder mystery break.
A vineyard tour of a winery will certainly tick all of the right gift boxes, if your mum loves wine and appreciates a good vintage. After the tour, she'll be able to enjoy a tasting session.
If she enjoys learning new things, sign your mum up for a masterclass in cocktail making. A mixologist experience includes demonstrations and spirit tastings, and will also teach your mum everything she needs to know to made three signature cocktails, plus her own unique creations.
To remember the happy experience for many years to come, don't forget to take plenty of snaps that you can later add to the collection on display in her stylish Mother's Day photo albums.