Poland boosts defence spending over war in Ukraine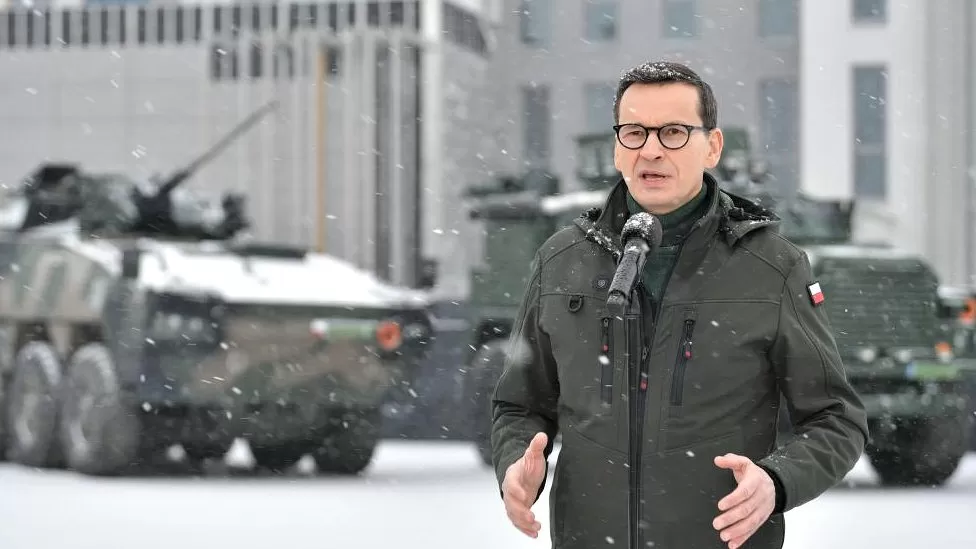 Poland has announced a sharp increase in defence spending, saying the change is needed because of the Ukraine war.
It is the latest European country to say it is increasing military spending as a result of the conflict.
Poland has a military budget of just less than 2.5% of its GDP, but the prime minister says he wants to increase the figure to 4% this year.
Last week, Mateusz Morawiecki urged Germany to allow his country to export Leopard 2 battle tanks to Ukraine.
"The war in Ukraine makes us arm ourselves even faster. That is why this year we will make an unprecedented effort: 4% of GDP for the Polish army," Mr Morawiecki said.
Raising defence spending to 4% "might mean that this will be the highest percentage… among all Nato countries," he added.
Poland, which borders the Russian exclave of Kaliningrad, has previously said it was buying 116 Abrams tanks from the US with the first deliveries to start this spring.
Russia's invasion of Ukraine has led many Western countries to review their military spending – and in many cases, increase it significantly.
Members of the Nato Western military alliance have agreed to spend at least 2% of GDP, a measure of a country's economic output, on defence from 2024. The figure of 2% has been a long-standing target for the alliance.
Recently, France outlined plans for a major boost to its armed forces in part due to the war in Ukraine, saying the next seven-year budget would increase to €413bn (£360bn) from 2024-30, up from €295bn.
Sweden and Finland have announced steep increases in their military budgets as part of their bid to join Nato.
Days after the invasion in February 2022, Germany pledged an extra €100bn of the budget to the armed forces.
And in June, the UK promised under former prime minister Boris Johnson to increase spending to 2.5% of GDP.