Paula Mihovilovic conjures couture from the fashion spectres of her past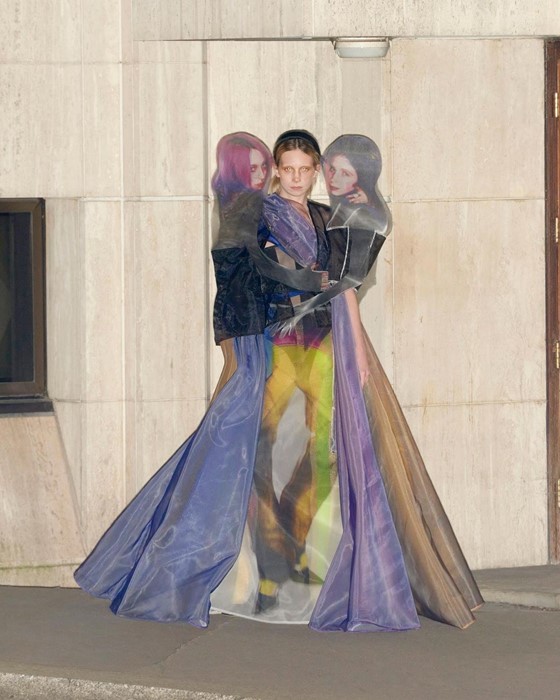 Fashion is often referred to as a vessel for personal reinvention, harbouring the power to shed, inhabit, and experiment with different identities. But Paula Mihovilovic's graduate collection at Central Saint Martins offered up an alternative idea: that people are forever haunted by the spectres of their past no matter the efforts they might make to decorate and disguise themselves. On the runway, ghoulish body doubles loomed over models, free-floating from bustiers, bustle skirts, and disco leggings. The whole thing was a seance of mish-mashed historical references, with Mihovilovic whipping layers of transparent fabric into overblown ballgowns, organza hoodies, and sheer, photo-printed balaclavas. "My collection marries our digital age with the golden age of couture," she says. "I seek to bring the glamour of the past to the present." Think Charles James, accented with the holographic quality of an Instagram filter.
This phantom thread was perhaps first sewn by her parents, who founded Skandal (a then-popular, but now-defunct) fashion brand in the 90s. "I didn't have many friends, so I spent most of my time hanging around my parents' studio while the seamstresses taught me to make dresses for my dolls," she says. "On one hand I do it for myself, on the other hand, I do it to honour my parents, who've fought so hard to give me the opportunity to pursue my dream." Mihovilovic's mum now lives as a 1,368 year-old vampire, which she announced on a Croatian episode of Come Dine With Me. It's a preternatural bloodline that seems to have surfaced in the designer's obsession with murder mystery podcasts, vintage wedding dresses, and Slavic folklore – and one that's attracted the attention of the British Fashion Council and the Sarabande Foundation, both of which have helped to fund Mihovilovic's studies.
Below, we catch up with the designer on modernising couture, One Direction fan fiction, and her corrosive Scorpio tendencies.